A teleprompter, also referred to as a prompter, autocue or cue prompter, is a display device which people use to guide them through speeches, scripts, music lyrics, TV news broadcasts, while looking directly into a camera lens or addressing a live audience. A teleprompter provides visual text that prompts the speaker. It is a behind-the-scenes device that an audience should not be aware of during a presentation or speaking event.
A teleprompter is a device which allows a presenter to read their script while looking directly into the camera lens or at an audience in a live setting. There are two parts to the system. There is prompter software, like Magicscroll for Windows which runs on Windows machines, which allow the operator to compose, edit and scroll the presenter's scripts. MagicScroll for Windows has all the edit functions of a typical word processor along with specialized capabilities for the prompter environment.
The second part of a teleprompter system is the prompter hardware or display. These displays are used in primarily two settings: on-camera, and on a stage in front of a live audience. With on-camera prompters a half-silvered mirror is placed in front of the lens. A monitor placed either above or below this mirror projects its image of the script on to the mirror allowing the presenter to see their copy. The camera shoots through the mirror and does not see the script.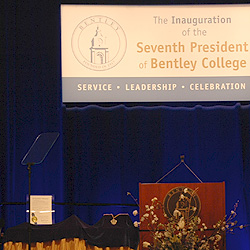 In the live or stage environment, a speech or presidential teleprompter is used. With a presenter standing behind a podium, two monitors are placed on the floor facing the ceiling. Like with the on-camera prompters there is a half-silvered piece of glass but in this situation it is held at eye-level at the top of a pole. Again the presenter can see the script reflecting on this mirror but the audience only sees a blank piece of glass. Actually if they were looking very carefully they might see a reflection of the ceiling but in this setting the ceiling is usually dark so they see nothing.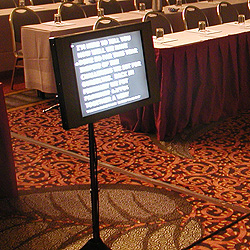 In some stage settings where the presenter is not behind a podium but rather walking back and forth on the stage, or in a concert setting, monitors can be placed either on the floor or on short stands. This allows the presenter to maintain some eye contact while never having their eyes looking at papers. This allows them to be much more engaged with the audience.
MagicScroll for Windows is compatible with Windows XP, Vista and Windows 7.
Yes. You can rent a teleprompter system from ECS Video Systems if you are located in or near Boston, MA or San Francisco, CA. If you are not located near these two offices, give them a call and they will do their best to find you a local resource. ECS Video Systems' equipment is packaged with our prompter software program, MagicScroll for Windows.